Alexi Allens Opens New Laguna Beach Art Gallery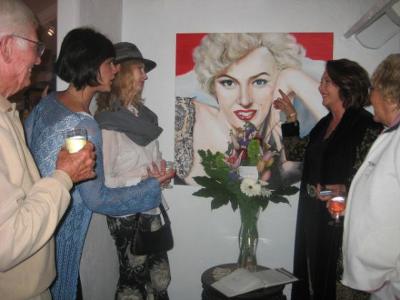 Alexi Allens discusses her Marilyn Monroe oil painting (photo courtesy of Pamela Mesaros/OC Register)
Alexi Allens opened her new art gallery in Laguna Beach named Gallerie Alexi.


Alexi's oil paintings are widely recognized for expressing moods and emotions. She honed her skills during extensive travels to the Far East where she studied Qi Gong for over seven years from a Tao master. She has also had her works published in India and Israel.
Gallerie Alexi Location:
In the Khyber Pass Building
1968 South Coast Highway
Laguna Beach, Ca 92651
Explore, discover, relax and play in the hidden treasures of Laguna Beach!

Copywrite 2009-2010 laguna-beach-info.com All Rights Reserved
All information is accurate at the time of publication
but may change without notice.