Joni Renee
by Joni Renee
(Orange, CA, USA)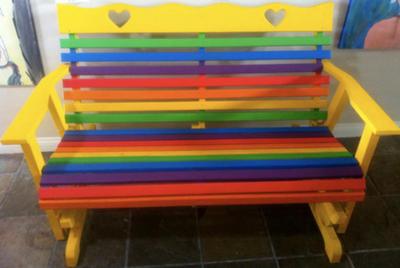 Painted bench, custom commission
Described as "intellectual, seductive, hurtful...somehow, inspiring" this Portland-based alto lives in a river of creation, with recent projects ranging from modern dance performances and painting shows to architectural and industrial design.

"In the Valley of Secrets", her debut album now available on iTunes, made headlines in Orange County after its 2011 release. Her songwriting stands apart in its biting honesty, hailed as "the breath of razor-sharp brutality that our generation's jeans-and-tans girly pop needs."

Joni studied performance art at the University of Tel Aviv in Israel as well as with the Guild of Bedouin Artists of Sinai in Egypt.

Her work is greatly influenced by Marina Abramović, Hila Yalon, and Iyeoka Ivie Okoawo.