Nicky Alice
by Nicky
(Brea)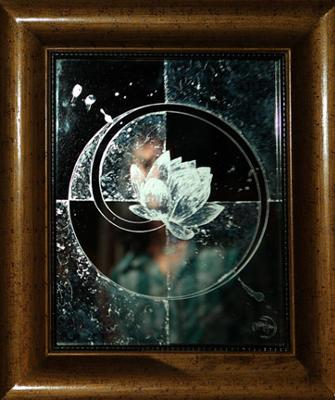 Mirror Artwork
by Nicky Alice
ARTIST STATEMENT:


Look in a mirror and one thing is sure; what we see is not who we are. What do you think about when you gaze in the silver? I see a canvas, a place for creation and an opportunity to have my expressed dreams reflected upon anyone who looks. Not many artists' work stares back at you and when I show, the muse get more than they bargained for when they see not only an original creation but themselves.
I accidently found this weird talent in 2007 and have gotten such a positive reaction from anyone who sees my work I was motivated to continue it as a profession, which goes along smoothly with my childhood dream of being an artist. Although having such a unique canvas has brought lots of attention, it handicaps me when it comes to capturing a piece. As we all know, a mirror captures everything it sees, it leaves the simple task of taking a picture of a piece the most challenging part, so I encourage appreciators to see my work in person.
When viewers look into my mirrors, I'd like for them to feel the way Alice did looking down the rabbit hole. Hope you find your way out...
Born and residing in Orange County California Nicky has been interested in art his whole life. Although his educational back ground is automotive technology and music his talents for weird art has achieved the most success and attention. Presently managing a the rock band Alevela and looking forward to a long career with the band which is about the break through the music industry. He plans on touring with Alevela and making his passion for art just as big a venture. Ladies and gentlemen, he is the definition of the saying "having his cake and eating it too". His mirror art is featured in Laguna Beach and Fullerton California and numerous high end stores and galleries throughout the Orange County area.
You can see all what is new with the artist on his web site
www.NickyAlice.com