Washington Artist Finds Artistic Voice in Laguna Beach
by Kelly Sooter
(Snohomish, WA USA)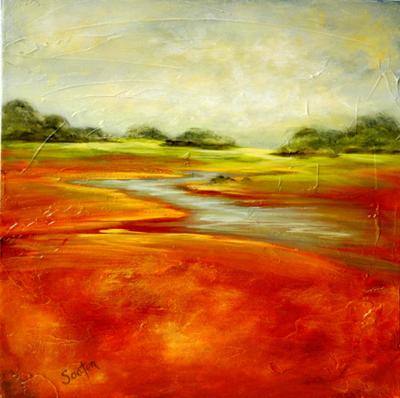 New Beginnings
It only took 24 years for me to realize that I am a landscape artist and Laguna Beach galleries & artists were the catalist that compeled me to completely change artistic direction. Painting and teaching European florals had been my life. No more.


My husband took to me to Laguna Beach as a gift -- where he could golf and I had 40+ art galleries to keep me busy. I knew that I needed to change my painting subject to landscape -- as every vacation was spent photographing or sketching the nearby landscape. However, I wanted to incorporate texture and contemporary color combinations - and couldn't find artists who exhibited this in Seattle.
After seeing a Shane Townley original, and viewing the Plein Air signature member exhibit at the museum with a Scott Christiansen original (that brought me to my knees), I started filling my sketch book with images from my home state of Washington and my travels in California. It was like getting hit in the gut. I couldn't get designs down fast enough and even sketched while on the plane home and for several days after getting back home to my studio.
I've been working hard in my studio since February 2011 despite my responsibilities running a large art group in the N. Seattle area and he Arts Council of Snohomish County. The "rules" of landscape design are a tad different....so I have been learning fast.
My very first pieces were accepted into Juried Exhibits that were hard to get into. The first piece was accepted to and sold at the new Schack Art Center (Artspace) - despite people scratching their heads at the use of texture. My second piece, was one of 150 chosen out of 2000+ to be exhibited in the Eastside Association of Fine Art's 36th Juried Exhibit at the Seattle Design Center.
Now I'm refining my artistic voice through experimenting with different techniques and looks -- most broody and moody. I'm forever grateful for my trip to Laguna. I only got through 21 galleries and have 20+ more to see this next year. Thank you Laguna for helping me on my artistic journey.
Kelly Sooter
www.kellysooter.com
TheSooterStudios@aol.com