Water Tank Trail
This Laguna Beach hike will take your breath away!
If you're the type of person who likes a challenge-
the beginning of Water Tank Trail offers one of the steepest grades in Laguna Beach. When friends and family are visiting from the flattest parts of the world (Texas and Florida), I love to take them up Water Tank Trail!! Every time I've taken a visitor hiking up this trail, they gain a greater appreciation for gravity as they are left gasping for breath and quads burning!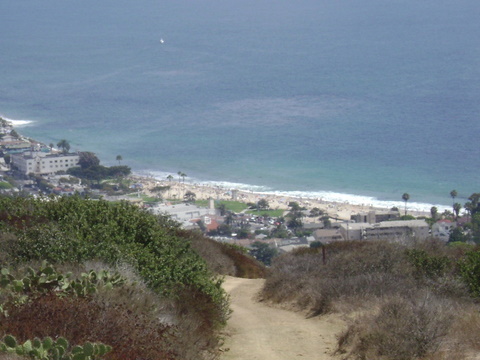 (Main Beach from Water Tank Trail)

Fortunately, the vertical challenge section of this hike is short. It usually takes about 15 minutes until you reach the peak. And for your efforts, you will be rewarded by incredibly beautiful ocean views in every direction as you look down upon the winding streets and neighborhoods of Laguna Beach. After you've enjoyed these panoramic views, Water Tank Trail takes you deeper into the Laguna Coast Wilderness Park. As you progress along the ridge, you will soon be immersed in the "wilderness" surrounded by canyon views. I really enjoy the sections of trail where you can't see any sign of human development! It's easy to forget that you're in Orange County!

You can always spot diverse local flora and fauna, especially if you go early in the morning or before sunset. One of my favorite memories of Water Tank Trail occurred at dusk a few summers ago. As I hiked out of the single-track, I stumbled upon two deer grazing in the tall grass near the main fire road. I immediately stopped to admire them. They stared back as they calculated how much of a threat I might be. After about a minute of me staring at them, and them staring at me- another hiker came down the trail with his golden lab. Apparently, the deer decided that I was less of a threat, because in an instant the two deer came bounding across the tall grass about 10 feet from where I was standing. As I watched their hooves fly by at eye level, I gained a better understanding of just how high and far these creatures could leap. Within seconds, they were gone into the canyon.

For short intense hikes, I usually make my turnaround point, the peak (where the signs are.) This creates about a 30 minute hike.

If you want to hike for about 90 minutes, continue on Water Tank Trail until it meets with Bommer Ridge Trail on the west ridge of the canyon. Five trails all converge in close proximity. If you stay toward the left, you will find yourself hiking down Boat Road Trail (Dartmoor Trail). If you stay on the right you'll be trekking down Laguna Bowl Trail. Laguna Ridge Trail is also a fun single-track if you can find it tucked behind the rocks and scrub.

If you're really serious about spending some hiking in the hills of Laguna Beach, stay on Bommer Ridge Trail. You'll find plenty of fun choices of lateral trails intersecting this main track.
Let me know what your favorite is!!


Directions to Water Tank Trail in Laguna Beach
Return from Water Tank Trail to Laguna Hiking Trails
Laguna Beach Info - Home Page