Laguna Blog
The Laguna Blog is a mini-journal about what I'm up to and what's new in Laguna Beach. You could get updates on -
* whenever any new Web pages appear on Laguna-Beach-Info, telling you about a new find or adventure
* keeps you up-to-date with other postings or news about Laguna (like the latest great restaurant or band playing in town!)
* points out some great past discoveries or events that you might otherwise miss
* lets you know when I send out the Laguna Beach e-zine (in case you don't like to give your e-mail address, or if your ISP tends to over-filter causing you to miss an issue).

To subscribe to my Laguna blog (no e-mail necessary), right-click on the orange RSS button and then paste the URL into your RSS reader.

Or click on the Google, My Yahoo! button My MSN button, newsgator, or Bloglnes button if you keep a personalized home page there.

If you are not sure what RSS and blogging is all about, click here... (What's an RSS Feed?) Once you start, you will be amazed at what RSS can do.


Enjoy!!!
Jul 24, 2017
Laguna Beach Weddings: Laguna Beach Info, California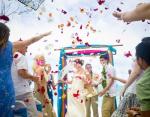 Laguna Beach Weddings: Celebrate your vows in Paradise. Whether your ceremony is right on the sand or on a grassy bluff above the beach, the most beautiful beach weddings are right here in Laguna!!
Continue reading "Laguna Beach Weddings: Laguna Beach Info, California"
Explore, discover, relax and play in the hidden treasures of Laguna Beach!

Copywrite 2009-2010 laguna-beach-info.com All Rights Reserved
All information is accurate at the time of publication
but may change without notice.