Bluebird Park in Laguna Beach
Children love the playground, swings, slides,
and historic rocketship
Not too long ago, the fate of the historic rocketship at Bluebird Park was in question, but concerned citizens rallied to raise the funds to restore the rocketship... and also renovate the entire Bluebird Park playground. This Laguna Beach park has extensive playground equipment that children love! You'll find swings, climbing equipment, numerous slides, a half-court basketball court, and of course- the historic rocketship!

Jump directly to
sections on this page:
In addition, this park has restroom facilities and payphone for emergencies. Bring the kids out to play in the childrens paradise of Bluebird Park!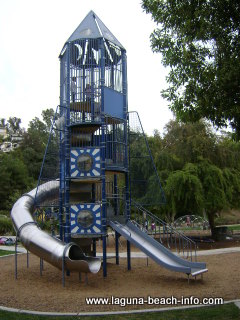 Historic Rocketship at Bluebird Park in Laguna Beach


Live Music in the Park
Summer Concert Series
at Bluebird Park
Every year, the City of Laguna Beach hosts the "Music in the Park" Summer Concert Series, where locals flock to listen to live music played in the middle of Bluebird Park.



Come bring a picnic dinner at sunset (5pm-7pm) and enjoy fantastic live music on Sunday night's during the summer months of July and August.


2012 Live Music Schedule
7/15 Cubensis - Grateful Dead Music Tribute
7/22 Smooth Sounds of Santana
7/29 Upstream - Reggae and Ska
8/5 Hollywood U2
8/12 Tom Nolan Band
8/19 Stone Soul
8/26 Knyght Ryder
Don't forget to bring a lawn-chair or blanket.
Just a reminder: No smoking in the park. And no dogs are allowed in the park. And the City of Laguna Beach requests that you don't set-up your blanket or chairs prior to 3pm


Find out more about Live Music in Bluebird Park directly from the City of Laguna Beach arts page.

Photos of Bluebird Park
Childrens Playground Equipment, Slides, Swings, and more!
| | |
| --- | --- |
| There are so many reasons why your kids will love Bluebird Park in Laguna Beach. To begin with, there are some great slides and childrens playground equipment here. | |
| | There is also unique climbing apparatus for your kids to monkey around on and wear themselves out! |
| There are bigger slides for bigger kids along the stairs. These childrens slides are a little taller, so the big kids can build-up a little more speed on their slide adventures! | |
| | There's also a play bridge at Bluebird Park for your little adventurer to cross and explore, |
| and several play tunnels for kids to crawl through if they prefer an underground adventure! (Don't worry parents, these tunnels are very short and you'll be able to see your child during the whole crossing. And the tunnels are big enough for you to join your kids if you like!) | |
| | The brightly colored tile turtle sculpture keeps watch over all of the activities at Bluebird Park, and is sturdy enough for your little ones to climb! |
| If you're planning a weekend basketball tournament for your family or just looking for a place to shoot some hoops, Bluebird Park has a half-court basketball court in the heart of residential Laguna Beach. | |
| | Did we mention that Bluebird Park is overflowing with childrens playground equipment and swings? Here is another angle, with the historic rocketship in the background. |
| Its hard to believe that the park designers were able to comfortably fit this much childrens playground equipment inside Bluebird Park! Pictured here is more climbing equipment for your kids to play on! | |
| | Bluebird Park's artistic entrance gate, with its vibrant colors and playful design beckons kid's imaginations to soar and invites all to play in this wonderful Laguna Beach park! |
Share Your Bluebird Park Experience and Review!
Do you have a great story, experience, or photos from Bluebird Park! Share your stories, pictures, and reviews of this Laguna Beach park!
What Other Visitors Have Said
Click below to see contributions from other visitors to this page...

The end of Summer locals playground

My wife and I enjoyed a local band,beautiful people and a place eden would be jealous of. Return to: Bluebird Park Laguna Beach Info - Home Page …
Bluebird Park We Miss You!!! Not rated yet
Driving through the neighborhood and then down into the canyon, who would have expected to find such an amazing place? Well, WE were expecting to find …
Bluebird Park is located at the intersection of Cress St and Bluebird Canyon Dr in Laguna Beach, California

You can find parking along either Bluebird Canyon Dr or Temple Terrace with direct access to the park.




Return from Bluebird Park to Laguna Beach Parks

Laguna Beach Info Home Page