Madison Square Garden:
The most unique and completely dog-friendly Laguna Beach Restaurant
As you enter Madison Square Garden and Café from PCH, you'll be surrounded by the lush garden of colorful and fragrant roses. Even before you step foot inside- you can't help but notice the ponds on the left accompanied by the collection of brilliant glass and ornate sculpture planted about the front lawn. Then you enter what you thought would be a restaurant- and most certainly it is… but it isn't dressed up like one! All of the seating is outside to allow for maximum dog-friendliness. On weekends- you'll find dogs of every size and breed joining their owners for lunch or breakfast.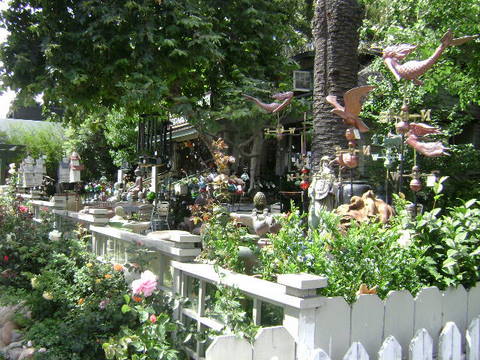 (Roses at Madison Square Garden and Cafe)

Everything that I've ever ordered here is always fresh and delicious, but my favorite dish is without a doubt, the Madison Rancheros. It may be the contrast in texture between the crunchy tortilla shells and the softer quality of the eggs, fresh beans, and thick guacamole. Or it could be the exemplary freshness of the ingredients. Whatever the reason- I'm addicted!!

Whenever I have guests in town, you can be sure that we're going to eat at least one meal at Madison Square. The food is simply fantastic. The dogs are always fun to watch. And you can't get this kind of eclectic décor and ambience anywhere else. Every moment that you sit and enjoy your food you'll notice another unique glass sphere or trinket- hanging from the trees, setting on a shelf, dangling from a gate.


If you're spending the day at Main Beach, Heisler Park, or the galleries in North Laguna this restaurant is within walking distance and definitely worth the visit!


Share Your Madison Square Garden Cafe Experience!
Do you have a great story, experience, or photos from Madison Square Garden Cafe? Share your stories, pictures, and reviews of the Laguna Beach restaurant here!
Madison Square Garden and Cafe - Location
Madison Square Garden
320 North Coast Hwy
Laguna Beach, Ca 92651
(949)494-0137


---
Return to from Madison Square Garden to Laguna Beach Restaurants
Laguna Beach Info - Home Page