Aliso Beach
Easy Access for Swimming, Skimboarding, and Diving in Laguna Beach
Aliso Beach is one of the most easily accessible of all the beaches in Laguna Beach. This is due to the large parking lot on-site (and across the street.) The clear blue waters are perfect for swimming, diving, and skimboarding. (Unfortunately, the waves usually aren't big enough here for decent surf sessions.)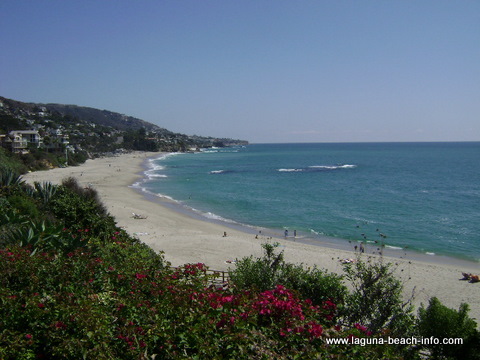 (Aliso Beach from the Montage)


Aliso Beach is also one of Laguna's longest sandy beaches. There are rocky outcroppings on either end of the beach for the kids to explore. However, the last time I was there- we went to go climbing on the rocks and the lifeguards ran over to let us know that the rocks were closed- due to the incoming tides. I guess they just didn't want to have to paddle-out to rescue us after we were washed into the surf!
If you're interested in snorkeling or scuba-diving, this beach does not have much shelter. So head out on calmer days and you'll find reefs off to either side which have ledges and shelves for plenty of hiding spots for critters to wedge into.


Aliso Beach Childrens Playground
| | |
| --- | --- |
| | Aliso Beach has a children's playground with several apparatus to climb on, swing from, and slide down! There is also a small swingset here for the children to enjoy! The playground at Aliso Beach is conveniently adjacent to both the sandy beach, and the parking lot. |
| Because the playground is positioned so close to the sand, even if you can't pry your children away from the fun equipment- you'll still be able to enjoy a fabulous view of the coastline! | |
Aliso Beach Photographs
| | |
| --- | --- |
| | This is a stunning view of Aliso Beach looking down from Aliso Peak. This short hike provides dramatic views of the Laguna Coastline in both directions and is definitely worth the effort! |
| The view looking south toward the rocks of Aliso Beach | |
| | The view looking north on Aliso Beach. If you walk along the beach in this direction, you will eventually reach the arch at Treasure Island (just below The Montage) and then Goff Island (which is visible in the distance) |
| The Arch at Treasure Island. If you walk north along Aliso Beach, as you pass The Montage you will reach this beautiful and frequently photographed natural arch! | |
| | These are the Aliso Beach public restroom facilities, which are located right next to the main parking lot. |
Aliso Beach in the News
- courtesy of Google News

Parking at Aliso Beach
| | |
| --- | --- |
| | Aliso Beach is definitely one of the easiest beaches in Laguna to find parking, with the lot adjacent to the sand (and additional parking across the street.) |
| The meters will charge you about $1 per hour and generate a receipt to put on the dashboard of your vehicle. Look for these self-service meters around the parking lot! | |
Aliso Beach Location
Aliso Beach is located along Coast Hwy, at Aliso Way in South Laguna :
31131 S. Pacific Coast Hwy
Laguna Beach, CA 92652
---
Return to from Aliso Beach to Laguna's Beaches page.
Return to the Laguna Beach Info Home Page.