Divers Cove
A small beach with some fun features to snorkel or scuba in Laguna Beach!
Divers Cove is a great little beach in North Laguna Beach, California! When you first arrive, you may think that the only diving will be found around the large rock formations on the right side of the cove.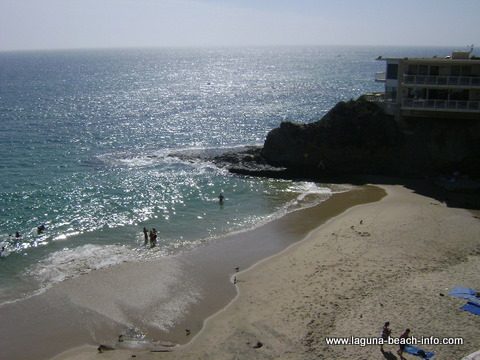 (Divers Cove in Laguna Beach, California)


| | |
| --- | --- |
| ("Divers Cove") | This painting of Divers Cove was created by local artist Renuka Pillai. You can find more of her work at: www.laguna-beach-info.com/renuka-pillai.html |
| You'll definitely find some fun cracks and channels in the rocks to swim into and explore on the rights side as you swim around toward Fishermans Cove to the right (Northwest). But this isn't the only spot where you'll find some fun diving here. | (Chris at Divers Cove) |
| (Divers Cove to the south towards Picnic Beach) | The rocks toward the left and directly straight out also provide a home for diverse marine life, and are worth checking out! |
As you explore near the rocks of Divers Cove, the surf can push you around so be careful. The crashing waves can also create bubbles and stir up sand, reducing visibility in these areas, so you may want to check local visibility conditions prior to coming down!

| | |
| --- | --- |
| Beach access is easy. Take the steps directly down from Cliff Dr, and then you can enter the water directly from the sandy beach. Make sure that you stow your gear far enough away from the water, as high tide engulfs almost the entire beach! | (Access stairs at Divers Cove) |
Parking at Divers Cove Laguna Beach
Metered parking for Divers Cove is available on Cliff Dr or Pacific Coast Highway (PCH). Additional free parking on the residential streets across Coast Highway.


Divers Cove Laguna Beach - Location
You'll find Divers Cove on Cliff Dr between Beverly and Myrtle, between Fishermans Cove and Picnic Beach. Once you arrive at Heisler Park, keep walking north along the trail until you reach the apartments over the cliff. That's where you'll find the stairs down to the sand!


---
Return from Divers Cove to Laguna Beaches page.
Laguna Beach Info Home Page.