Fishermans Cove
Ideal for kayak rentals, snorkeling, or scuba diving in Laguna Beach!
Fishermans Cove in Laguna Beach is a great beach for snorkeling, scuba diving, or renting kayaks! This small beach features soft sandy access to the water from the middle areas, and rock outcroppings and tidepools to explore on either side.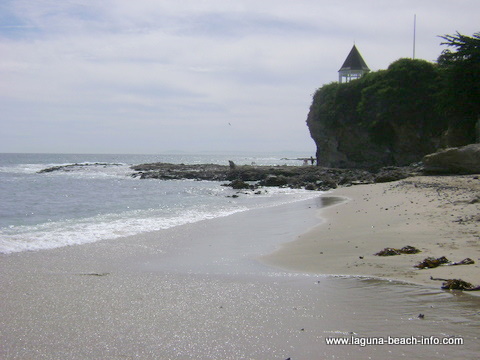 (Fishermans Cove in Laguna Beach, California)


If you're diving, there is a reef straight out from the sand to explore! This has generally been considered a beginner dive site, but all levels will enjoy the abundance of sea life here. If you get completely absorbed in exploring the marine life while you're out in the water, and happen to wander way off to either side- you can exit the water at Divers Cove (immediately to the South) or Shaws Cove (immediately to the North)

Rent a Kayak at Fishermans Cove Laguna Beach
| | |
| --- | --- |
| (kayaks for rent) | In addition to exploring the wildlife- you might want to rent a kayak! And Fishermans Cove is the place to do it! As you can see… there are many different kinds of ocean kayaks that you can rent here, and the sandy beach makes for an easy launch on days where the waves aren't that big! |
| Keep in mind, if you are going out in the water for any extended period of time, that at high tide the sand here becomes completely submerged- so don't leave anything out in the low-lying areas or else it might not be there when you get back! | (kayakers paddling out) |
Beach Access to Fishermans Cove
| | |
| --- | --- |
| (stairs down to Fishermans) | An easy flight of stairs can be found just at the corner of the condos on Cliff Dr with the sign for Fishermans Cove clearly marked |
Fishermans Cove Facilities
There are no facilities located directly at Fishermans Cove, but restrooms and payphones can be found nearby Heisler Park.


Parking at Fishermans Cover Laguna Beach
There is metered parking near Fishermans Cove along Cliff Dr. Or if you prefer to park across Coast Highway along the residential streets and walk, you can find free parking. Just be careful to not block anyone's driveway!


Fishermans Cove Laguna Beach - Location
Located on Cliff Dr between Beverly and Myrtle.
Fishermans Cove is located between Divers Cove (adjacent to the south) and Shaws Cove (adjacent to the North)




---
Return from Fishermans Coveto Laguna Beach Info Beaches Page.
Laguna Beach Info Home Page.