Woods Cove:
Escape to paradise- go to Woods Cove in Laguna Beach!
When you're in Laguna Beach, you need to spend some time at Woods Cove. This beach is paradise. Unless there's a swell, you're not likely to find much surfing here, but the natural beauty of the place more than makes up for that!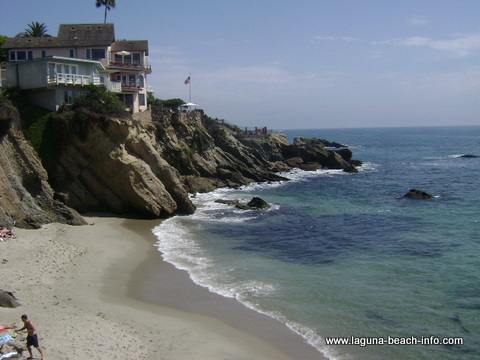 (South View of Woods Cove, Laguna Beach, California)



On the southern end (looking left) of Woods Cove, you'll find a slanted rock arch where you can walk through the rock wall and enter a tiny little secluded spot on the beach! The tide does wash up high enough to get you wet though, so be prepared for some splashing tides!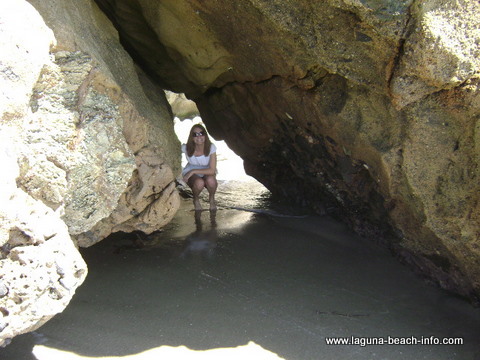 (Michelle under the rock arch at Woods Cove, Laguna Beach, California)



On the rocks to the far right you'll find some fun tidepools. They're a little more difficult to access than others in Laguna Beach- so younger children may have difficulty getting to the tidepools. In addition- wear something that you don't mind getting wet, because this is one of those spots that you're gonna get wet just scrambling over the rocks and tide to get there! (Also if the tide is high, the lifeguards will close the rocks and clear everyone back to the beach for safety!)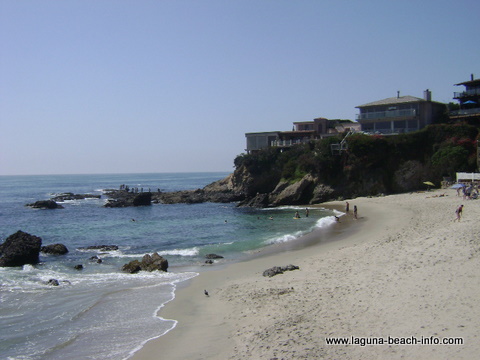 (Northern end of Woods Cove, Laguna Beach)


Bring your snorkel gear and a dive buddy, because Woods Cove offers some great local diving.


The only drawback to Woods Cove, is that there are no restroom or shower facilities here. In case of emergency, you will find a payphone at the top of the stairs on Diamond St and lifeguards are stationed at the beach during daylight hours in the summer season.


Whatever you do- when you're visiting Laguna Beach, at least stop by and walk the beautiful sandy shores of Woods Cove. You will not regret it!


Parking at Woods Cove
There is imited free parking near Woods Cove on Ocean Way. You can usually find additional metered parking on Coast Highway. And, if you don't mind walking, you can park for free in the residential streets across Coast Highway, just make sure that you don't block anyone's driveway!


---
Woods Cove Location
Woods Cove is located at the intersection of Diamond St and Coast Highway in Laguna Beach.


---
Return from Woods Cove to Laguna Beach Beaches
Laguna Beach Info - Home Page